August 5th, 2013
Coincidentally, I came across two Wario Land 4-related podcasts over the past week or so. The first one is the second episode of the new volume of Retronauts and the second one is a Radio Free Nintendo podcast from last year. The Retronauts podcast is, as always, worth a listen, but I'm not so sure about Radio Free Nintendo. Although they spend a lot of time discussing the game and go into specifics—all of which is great—I feel that they read too much into their initial impressions. Every time they criticised the game because there was some part of it that they didn't "get", I wanted to pull my hair out. Part of critiquing games involves separating your personal biases from what the game is. Only then, once you understand what the game is, can you make sense of your opinions of the game. In other words, just because you think a game is good, bad, whatever, doesn't necessarily mean that it is; you have to look at things a bit more objectively first. Even though Retronauts only spent around 10-15 minutes on Wario Land 4, the discussion is much more constructive than the 50 or so minutes RFN spent on it. In saying all this, though, I've been listening to a few RFN episodes lately and besides the Wario Land 4 discussion, I've rather enjoyed the other shows.
Oh, and yes, stuff is still happening with my Wario Land 4 book and you should hopefully be hearing some exciting news soon.
May 8th, 2013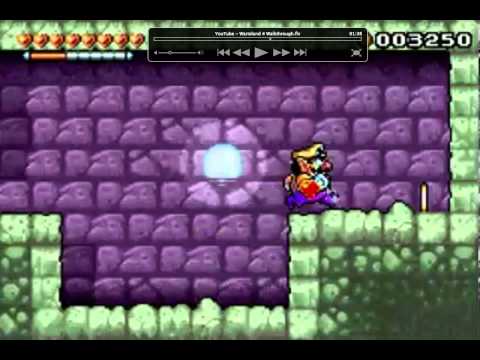 This morning I was playing around with doing a video commentary piece on Anna Anthrophy's Mighty Jill Off. I've been meaning to write about this game's level design for a while, but because the game's only playable in full screen—meaning I can't play a bit and then type about it, or quickly stress test my comments on the fly—I never finished my article. I knew that the video wouldn't work because I needed to have taken some notes first, but I gave it a shot anyway, just to prolong my procrastination. After not getting very far, I thought that I could do something similar on Wario Land 4, and came up with the video above. It's pretty rough (so many "it's important"s) and I didn't do any preparation, but I'm still curious to know what you all think of it? Let me know in the comments.
February 9th, 2013
After 2 years of full-time work on top of my regular full-time job and personal commitments, I've finally completed my book, Rethinking Games Criticism: An Analysis of Wario Land 4. What was originally meant to be a 120-page warm-up for a full-sized book on Metroid Prime turned out to be a part-critique, part-game-design-text-book, 450-paged behemoth. Yet despite the gradual change in direction, I kept the planned 6-month crunch going for 2 years. While the final push has worn me out a bit, I'm keen to just get on with what's next as it's been a year since I've written any new material. I have a bunch of upcoming projects that I've been stewing over for far too long. I'm not exactly sure which one I'll start first, so I'll probably just catch up on my backlog of game design notes—starting with the stuff I can pump out quickly—and see where that takes me. I'm guessing most of this copy will come out on the blog, while other parts will go into the projects. I also have a few posts on writing, editing, and the book itself that will come out over time. So, in whichever form you see it in, expect stuff on:
Tactics Ogre: Let Us Cling Together, Red Steel 2, Metroid: Other M, Final Fantasy Tactics Advance, Wario Land 3, Wario Land Shake Dimension, Star Ocean: Second Evolution, Wipeout Pulse, Bookworm, Critter Crunch, Kid Icarus, Resident Evil Darkside Chronicles, Resident Evil 4, Super Mario Galaxy 2, Shining Force, Braid, DK: King of Swing, Spider: The Secret of Bryce Manor, Cut the Rope, Burnout Revenge, Metal Gear Solid: Ghost Babel, Zelda: 4 Swords Adventures (comments on my Twitter), Harvest Moon, Vanquish, Halo Legends (comments on my Twitter), Uncharted 2, deep reading and the internet, concept albums, player manipulation, and asynchronous multiplayer design in the classroom.
If you've got any ideas on any of these topics or games, then I'd be happy to trade thoughts. You can hit me up on email or IM through the following channels:
Email – danielprimed [at] gmail [dot] com
MSN – daniel [at] danielprimed [dot] com
AIM – danielprimed
Skype – danielprimed
Twitter – @danielprimed
I haven't gotten around to chasing up any publishing leads, the past 2 and a half months have been solely dedicated to finishing the final edit. Once I have something concrete to announce, rest assure that I will.
Thanks for your support and patience,
Daniel