July 1st, 2014
Play Here (in browser)
"The Cave of Ātman is a sequential strategy RPG puzzler inspired by games such as Fire Emblem (GBA) and Jeanne d'Arc (PSP). A band of brave warriors find themselves summoned to a mysterious cave following a short tremor. As they descend the cave's many floors, they unearth a secret that rests deep inside their souls."
- Game Description
Background
The Cave of Ātman is a game I developed with my brother, Chris Johnson, and my games analysis buddy, Hayden Davernport. I did the game design and graphic work, Chris did the programming and project management, and Hayden did the music and sound effects. I came up with the idea early last year after I finished working on Game Design Companion: A Critical Analysis of Wario Land 4. Chris put the framework together over Christmas after I pitched the idea to him, I've been working on it on and off since January, and Hayden joined in March after we completed work on Starseed Observatory.
Concept
The idea evolved out of a series of notes I'd written on Tactics Ogre: Let us Cling Together (PSP), Fire Emblem: Sacred Stones (GBA), and Jeanne d'Arc (PSP) shortly after I finished the final edit of Game Design Companion. Since I'd been playing these three SRPGs at roughly the same time, my observations kind of congealed together. Before I knew it the only way I could cover all three games without heavy repetition and overlap: a three-in-one game repair.
Long story short: I discovered that many of the RPG systems in SRPG games (leveling, equipment, and custom unit selection) deconstruct strategic gameplay, and that the only way to maintain pure strategic gameplay is to remove these elements completely. No matter whether the RPG systems are heavy (Tactics Ogre), medium (Jeanne d'Arc), or light (Fire Emblem), they still place a strain of the strategy. In this sense, there's an inherent conflict between the two halves of this sub-genre.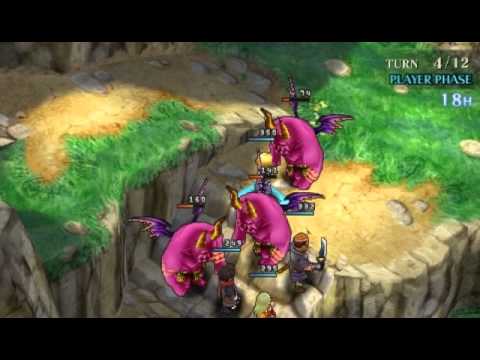 Another point that I often returned to in my mini-case study of the genre was Jeanne d'Arc's excellent Burning Aura system. After attacking an enemy, an aura appears behind the enemy. Players can then move a unit into the aura tile to launch a critical attack. I love how this system adds new strategic wrinkles to the game whereby you manage the spacing of units with various attack ranges so as to combo up critical hits. The only issue I have with Burning Aura is that the auras fade away at the end of each phase cycle and so, with only a handful of units at your disposal, you can't create very deep chains. I wondered what Jeanne d'Arc would look like if the auras stayed around a bit longer.
With these two ideas in mind and my repair job turning into a game of its own, I started planning my own SRPG. As I was thinking through the potential unit spacing, attack combinations, and suspension elements, I realised that I could distill this concept down further into a puzzle game, and thus The Cave of Ātman was born.
Lessons Learnt
It's actually not like Jeanne d'Arc – The beauty of Jeanne d'Arc's Burning Auras is that enemy units can be attacked multiple times, and they usually have enough health that you need to attack them a few times. This anchors the spatial jig-saw around a central point. In The Cave of Ātman enemies die in one hit, assuming you've got enough aura, and therefore the puzzle challenges are centred around hot potatoes that move through the play space. The natural dispersion of enemies on the battlefield, where they might not always be in near reach, also makes it hard for the Jeanne's auras to be suspended across interactions (never mind the turn-based limitations). As I developed the rules for The Cave of Ātman, I realised that in order to turn the concept into a puzzle game, I had to shed some of Jeanne's identity and push the project into an alternative design space. The end result is more "inspired by" then "developed from", but that's cool.
The Particulars – When I write games analysis I always focus on the details and the power they have to influence a work on the whole. This is something that I found difficult to translate into game development. It's easy to come up with ideas; the hard work is all in the implementation. Chris, who had the task of putting my ideas into code, would often ask for details on things I hadn't originally considered.
Heavy Handed Tutorials – When I playtested The Cave of Ātman with a group of games analysis buddies, almost everyone said that the tutorial levels were so heavy-handed that players could complete them without even understanding what they were doing. Through their analysis, the group had unearthed a piece of me within the game. As a teacher (my job), I like to always be in control of my class and ensure that the students are getting enough feedback. I hold myself to the same teaching standards that I find in my favourite games and often compare my performance with those games. In this case, I hadn't realised that my approach had been to the detriment of the learning design.
Planning Ahead – I had a clear understanding of the game I wanted to develop and the game we made turned out just as I envisioned it would. Having a clear understanding of the design space and also keeping everything limited (single turns, one enemy type, etc.) made it easier to work through some of the challenges that cropped up during development.
Conclusion
If you haven't already, I encourage you to give The Cave of Ātman a go. Share it with your friends too. I'd love to hear your feedback. I don't have any grand ambitions to get into game development or anything like that, this was just a hobby project, but I have put up a new page on the site which lists my background in working on games. With the Starseed Observatory and The Cave of Ātman finished, I can return my focus back onto writing, so expect some more of that soon. Big props to Hayden and my big brother Chris for their hard work and commitment on the project.
Press Coverage
Jay is Games - The Cave of Ātman Review
Indie Statik - The Puzzling Delicacy Of Slaughtering Smiling Skeletons In The Cave Of Atman
IndieGames.com – Browser Pick: The Cave of Atman
June 19th, 2014
This video was too funny to pass up.
For the first time in a long time I was completely satisfied by the E3 showing this year. Loads of great games and plenty of innovation. After hours of reading, watching, and reflection, here are my main take aways from the show:
Presenting Gameplay
Video playthroughs focused on select portions of a game accompanied by developer commentary and gameplay trailers with few cuts are the best way to show off your gameplay to a new audience. Montages, CG trailers, early prototype video, and conceptual demos of the developers talking high concept just doesn't cut it. Let the gameplay do the talking.
Between Nintendo's Digital Event and the Treehouse Sessions, they covered these bases pretty well. However, the Treehouse videos were often drawn out due to the Japanese to English translation. Yes, I'm interested in Codename STEAM. No, I don't have 45 minutes to sit through a slowly narrated playthrough with translation delays. Sony's developer interviews were much more digestible at 10 minutes a piece, but they were too unfocused. Take this video of Hohokum for the PS4. After watching a 9-minute interview, I still have no idea what you do in this game. Start the interview with a short, elevator-pitch summary guys….geeze. The interviews are also inter-spliced with short snippets of trailer footage. It's a good idea, but there's not enough gameplay or context in the interviews to be constructive. Sony's punchy length and Nintendo's dictated playthroughs together would make a winning formula. Next year, guys.
The Conferences
If you stripped out all the CG trailers and meandering demos from the E3 conferences and replaced them with focused gameplay explanations, they'd be much more effective. I'm an E3 nut, but 1hr and a half of sizzle grows tiresome real quick.
It boggle the mind that Sony and Microsoft continue this pissing match of minor exclusivity. "Console debut", "DLC first", "it's better on…", "exclusive alpha version", every time you hear these words—or in the case of self-apparent multiplatform titles, not hear—you know that it's still a free kick to the other team.
Microsoft's conference was basically a rehash of what they've been doing for the past 7 years: shooting, stabbing, and driving. I have no problem with these kinds of games, but there wasn't anything genuinely new—unlike Titanfall
The start of Nintendo's Digital Event was so refreshing especially after two marathon hours of self-important sizzle. It was funny too; I almost fell out of my seat. I also love the idea of Nintendo pushing back against the vocal minority of idiots in the Nintendo fan base. However, it was unfair of them to use Mother 3—a game which they can easily bring over to the virtual console.
Sony gave even more time than last year to indie games and it certainly injected a shot of dynamism into their showing. I'm not sure that Microsoft's "we have 100s of these games" tactic is as effective as Sony's curation approach. Giving these games a platform outside of a video montage and winning over some exclusivity on key titles is the best way to demonstrate commitment. That's to say I think that players are more interested in playing the next great wave of indie games than having a large quantity of indie games to play. After all, we've all got PCs. In saying all this, though, maybe it's just a consequence of the way Sony presented their indie game line up, but it was hard to see how these games were unique outside of their visual flair.
New Zelda
I was surprised that no one said that the new Zelda looks like Killer is Dead meets Skyward Sword. It totally does, right?
Nintendo say that the latest Zelda will be "open world", but I wonder what that means exactly. Open world design works against the squeeze of gameplay, so I wonder how they're going to pull it off while still maintaining the high level of gameplay quality that the Zelda series is known for. I guess A Link Between Worlds, which I have sitting on my 3DS SD card unplayed, will answer some of those questions for me. Whatever the case, I think it'll take all the design ingenuity that Nintendo can muster to deliver on what Aonuma articulated during the digital event.
Splatoon
Splatoon was my game of the show. The genius behind this game makes my head spin. Territory control represented visually and organically as ink. Ink as a central dynamic that syncs into movement speed, traversal options, abilities, game flow and progression, and spatial dynamics. Ink as a solution to the issues inherent to gunplay (easy-to-see bullets that you can respond to, a weight dynamic to aiming, gyro to tune aiming, non-violent gunplay). Motion controls, touch screen controls, and traditional controller inputs. A reinvention of a well-worn genre. In terms of design, this is the most modern and sophisticated game I've seen in a long time.
I'm also surprised that no one said that Splatoon looks like a Sonic team game.
Odds and Ends
Prior to the show I was hoping that Nintendo would announce a new IP. In the end they announced six and they all look fantastic.
Project Spark was one of the only kid-friendly games shown at Microsoft's conference and so what did they do? They added Conker to it. Well done.
There seems to be a lot of different coloured gems in Yarn Yoshi. I hope they're not just excessive collectables. I'm still not convinced of this game.
It's cool that Criterion are working on something awesome and completely new, but showing it off so early is poor form for EA.
Shape Up treats work out moves as interactions and then builds a game around them. It's a neat idea.
Having recently read Alan Moore's Jack the Ripper epic From Hell, I'm curious about The Order. However, not much has been said about what makes the gameplay unique and what we saw at E3 doesn't aspire much confidence that it'll be anything more than Uncharted 2 inter-spliced with Heavy Rain.
The Grim Fandango remake announcement was the biggest megaton of the show (although the game hardly needs a remake, but I'm open to being proven wrong).
 The additions to LittleBigPlanet 3 look smart and substantial. It's funny that the same team who worked on Forza Horizon 2 are working on this game.
 I can't believe that Konami put out another MGS5 trailer. I wish they would explain more about the gameplay. I guess they kind of did that with Ground Zeros… :/
Yep. Very satisfied indeed. What did you most enjoy about the show? Let me know in the comments.
May 12th, 2014
Over the Christmas break, I burned through Mega Man Anniversary Collection on the PS2. It was the first time I'd ever played Mega Man, and now I'm a big fan of the series. A lot has been said about the original NES games, so I'm just going to focus on a few key observations.
Since the platforming gameplay is fairly static, most of the trials (think trial and error) that the player makes are in the robot master battles. That is, testing to see whether a certain beam will take off more damage, whether a new tactic will help you dodge a certain move, etc. This is why the pre-boss checkpoints introduced in Mega Man 3 are so great: they remove the redundant repetition that occurs when the player is learning how to beat a boss. So there's no need to repeat half the level when you've already done it once.
The robot masters get wackier and more obtuse much earlier than I thought they would. And as such, it becomes hard to figure out the their weaknesses, which means more hypothesis testing and trial and error. Since there's only a handful of beams, though, the player can find out which attacks work best relatively quickly. Like the clues in crosswords, you want the answer to seem intuitive without being too obvious. Usually the combinations make sense, but sometimes they're a bit less elegant (Plant Man is takes more damage from a Blizzard Attack than a Flame Blast?!).
The original series isn't as difficult as internet folklore would have you believe. The extra beams and abilities (Rush Coil, Rush Jet, etc.) allow players to scale the game's difficulty, so there's plenty of wiggle room.
Besides the inclusion of Proto Man in Mega Man 3, which mixed up the progression structure a bit, the elaborate stories of the later games don't really complimented the gameplay a great deal. They just pad out the opening introduction.
The warp pads that teleport Mega Man out from the individuals rooms and into the robot masters selection room in Wily's castle should require that the player press down to exit. Several times I accidentally left the rooms before I could pick up the health pellet.
In Mega Man 4, the final few bosses and levels in Wily's castle are quite short and easy, throwing the difficulty curve out of whack. It's nice that they added more content, with the second phase of Wily's castle, but it could have been better placed.
The charge shot in Mega Man 4 contributed a great deal to the series. The mechanic allows the player to suspend gameplay over multiple areas, allowing them to remain more consistently engaged in the game.
As a kid, I imagine that I would have played a very pure game of Mega Man, focusing on my dexterity and reflex levels. As an adult, I move some of the stress onto my knowledge skills. So I'll look for patterns or internalise timings.
After beating a level, you're given two options, "continue" and "level select". The "continue" option always confused me as instead of allowing you to continue you're game, you're put back in the same level that you just completed. It should be relabelled as "retry level".
Although the series ran out of fresh ideas around Mega Man 4, the later games still had some glimmers of innovation here and there. Gravity Man's stage in Mega Man 5 is a great example. I think of it as a precursor to VVVVVV.
In Mega Man 5, many of the enemies die after taking a hit from a fully-charged beam, so it's easy to defeat enemies as soon as they come into view. Since the enemies have no way to counter, the mechanic is overpowered. Some simple dodging or reflecting moves could have gone a long way to making the enemies more effective.
In Mega Man 5 and 6, tank reserves are suspended across game overs, so it's possible to stock up supplies for the final boss battle. These games are also way too generous with the distribution of tanks. What was once a reward became a right. Find a spot at the start of a level where there's a free energy tank and go crazy.