July 1st, 2014
Play Here (in browser)
"The Cave of Ātman is a sequential strategy RPG puzzler inspired by games such as Fire Emblem (GBA) and Jeanne d'Arc (PSP). A band of brave warriors find themselves summoned to a mysterious cave following a short tremor. As they descend the cave's many floors, they unearth a secret that rests deep inside their souls."
- Game Description
Background
The Cave of Ātman is a game I developed with my brother, Chris Johnson, and my games analysis buddy, Hayden Davernport. I did the game design and graphic work, Chris did the programming and project management, and Hayden did the music and sound effects. I came up with the idea early last year after I finished working on Game Design Companion: A Critical Analysis of Wario Land 4. Chris put the framework together over Christmas after I pitched the idea to him, I've been working on it on and off since January, and Hayden joined in March after we completed work on Starseed Observatory.
Concept
The idea evolved out of a series of notes I'd written on Tactics Ogre: Let us Cling Together (PSP), Fire Emblem: Sacred Stones (GBA), and Jeanne d'Arc (PSP) shortly after I finished the final edit of Game Design Companion. Since I'd been playing these three SRPGs at roughly the same time, my observations kind of congealed together. Before I knew it the only way I could cover all three games without heavy repetition and overlap: a three-in-one game repair.
Long story short: I discovered that many of the RPG systems in SRPG games (leveling, equipment, and custom unit selection) deconstruct strategic gameplay, and that the only way to maintain pure strategic gameplay is to remove these elements completely. No matter whether the RPG systems are heavy (Tactics Ogre), medium (Jeanne d'Arc), or light (Fire Emblem), they still place a strain of the strategy. In this sense, there's an inherent conflict between the two halves of this sub-genre.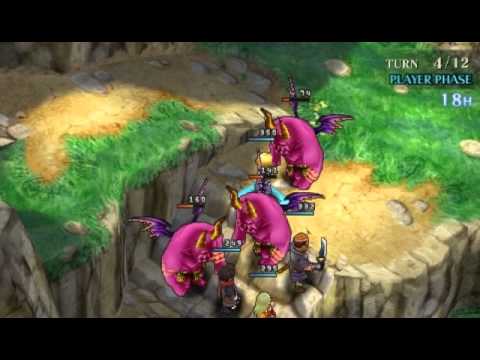 Another point that I often returned to in my mini-case study of the genre was Jeanne d'Arc's excellent Burning Aura system. After attacking an enemy, an aura appears behind the enemy. Players can then move a unit into the aura tile to launch a critical attack. I love how this system adds new strategic wrinkles to the game whereby you manage the spacing of units with various attack ranges so as to combo up critical hits. The only issue I have with Burning Aura is that the auras fade away at the end of each phase cycle and so, with only a handful of units at your disposal, you can't create very deep chains. I wondered what Jeanne d'Arc would look like if the auras stayed around a bit longer.
With these two ideas in mind and my repair job turning into a game of its own, I started planning my own SRPG. As I was thinking through the potential unit spacing, attack combinations, and suspension elements, I realised that I could distill this concept down further into a puzzle game, and thus The Cave of Ātman was born.
Lessons Learnt
It's actually not like Jeanne d'Arc – The beauty of Jeanne d'Arc's Burning Auras is that enemy units can be attacked multiple times, and they usually have enough health that you need to attack them a few times. This anchors the spatial jig-saw around a central point. In The Cave of Ātman enemies die in one hit, assuming you've got enough aura, and therefore the puzzle challenges are centred around hot potatoes that move through the play space. The natural dispersion of enemies on the battlefield, where they might not always be in near reach, also makes it hard for the Jeanne's auras to be suspended across interactions (never mind the turn-based limitations). As I developed the rules for The Cave of Ātman, I realised that in order to turn the concept into a puzzle game, I had to shed some of Jeanne's identity and push the project into an alternative design space. The end result is more "inspired by" then "developed from", but that's cool.
The Particulars – When I write games analysis I always focus on the details and the power they have to influence a work on the whole. This is something that I found difficult to translate into game development. It's easy to come up with ideas; the hard work is all in the implementation. Chris, who had the task of putting my ideas into code, would often ask for details on things I hadn't originally considered.
Heavy Handed Tutorials – When I playtested The Cave of Ātman with a group of games analysis buddies, almost everyone said that the tutorial levels were so heavy-handed that players could complete them without even understanding what they were doing. Through their analysis, the group had unearthed a piece of me within the game. As a teacher (my job), I like to always be in control of my class and ensure that the students are getting enough feedback. I hold myself to the same teaching standards that I find in my favourite games and often compare my performance with those games. In this case, I hadn't realised that my approach had been to the detriment of the learning design.
Planning Ahead – I had a clear understanding of the game I wanted to develop and the game we made turned out just as I envisioned it would. Having a clear understanding of the design space and also keeping everything limited (single turns, one enemy type, etc.) made it easier to work through some of the challenges that cropped up during development.
Conclusion
If you haven't already, I encourage you to give The Cave of Ātman a go. Share it with your friends too. I'd love to hear your feedback. I don't have any grand ambitions to get into game development or anything like that, this was just a hobby project, but I have put up a new page on the site which lists my background in working on games. With the Starseed Observatory and The Cave of Ātman finished, I can return my focus back onto writing, so expect some more of that soon. Big props to Hayden and my big brother Chris for their hard work and commitment on the project.
Press Coverage
Jay is Games - The Cave of Ātman Review
Indie Statik - The Puzzling Delicacy Of Slaughtering Smiling Skeletons In The Cave Of Atman
IndieGames.com – Browser Pick: The Cave of Atman
March 4th, 2014
Ah, so here is that mysterious group project I've been working on. It's something Richard and I have been discussing for years and is a seed for something that I hope develops into something much bigger. I was the lead editor of the project and did the podcast-video feature Twin Perspectives. I like how the page offers listeners a lot of different ways to engage with the content. Later on, once I get some more time to myself, I'll do a full write-up on the site, but for now, please enjoy this press release:
Press Release: New Starseed Pilgrim website is an experiment in the next generation of games criticism
Collaborative games criticism group, Critical-Gaming, releases ambitious new website on Starseed Pilgrim.
Dallas, Texas – March 3 2014 - Critical-Gaming today announces the release of Starseed Observatory(http://starseedobservatory.com), a new games criticism website exploring the indie puzzle-platformer Starseed Pilgrim. The website is an example of quality games criticism, a tool to help players critically discuss video games, and a resource to display and connect visitors to the discourse on the game.
Starseed Observatory is a mixed-media presentation that contains articles, podcasts, music, videos, imagery, and gameplay demos all co-created by members of Critical-Gaming. The criticism ranges from analysis of the game's design, music, and gameplay strategies to personal reactions and reflections.
Droqen, the creator of Starseed Pilgrim, has supported the project by creating playable snapshots of gameplay to accompany the articles. In the next few months, Droqen shall release a new update to Starseed Pilgrim, Starseed Dreamwalk. The modification contains a mix of new ideas and suggestions put forward by Critical-Gaming.
On Starseed Observatory, co-founder, Richard Terrell, says:
"Video games are complex works of art that utilize many different types of design and craft. All the work that is put into games makes them more interesting, engaging, and enjoyable experiences for players. One way we can share great experiences we have with games is by talking about them. Proper criticism gives us the language to understand and enjoy games better (even the games we don't like!)."
Starseed Observatory is available right now at http://starseedobservatory.com.
About Critical-Gaming
Critical-Gaming are a diverse group of game analysts, designers, and writers. The team has met online every Sunday for almost a year to keep in touch and brainstorm ways to fix the current state of games criticism. The group was co-founded by Richard Terrell and Daniel Johnson.
About Richard Terrell
Richard Terrell writes the Critical-Gaming blog and co-developed BaraBariBall, an indie fighting-sports game hybrid that's part of the Sportsfriends compilation on PC, PS3, and PS4.
Web: critical-gaming.com
Email: richard@critical-gaming.com
Twitter: @kirbykid
About Daniel Johnson
Daniel Johnson is a former GameSetWatch columnist and the author of Game Design Companion: A Critical Analysis of Wario Land 4 and Adventures in Games Analysis.
Web: danielprimed.com
Email: danielprimed@gmail.com
Twitter: @danielprimed
For media inquiries, please contact:
Richard Terrell
Email: richard@critical-gaming.com
Phone: 214.995.8424
Availability: 9am central – 10pm central
December 16th, 2013
Finally, after 3 years of talking about it, my Wario Land 4 book will be released this Wednesday. Unfortunately, Adventures in Game Analysis Volume #1, my new games analysis bookazine, has been pushed back to early next year. I also have another (completed) project that'll be coming out in January and possibly another one shortly after that…but alas, it's Wario's time to shine, so read on.
New eBook "Game Design Companion: A Critical Analysis of Wario Land 4″ dissects the classic platformer, unravels game design and player interaction
Adelaide, Australia – 16th December, 2013 – Stolen Projects today announces the forthcoming release of Game Design Companion: A Critical Analysis of Wario Land 4, an exciting new eBook from game design analyst and former GameSetWatch columnist, Daniel Johnson.
Game Design Companion: A Critical Analysis of Wario Land 4 takes under-appreciated gaming gem, Wario Land 4 (2001) for the GameBoy Advance, and splays the meat and bones of videogame design and structure across nearly 600 print pages to understand their influence on player experience.
Author Daniel Johnson, in a radical departure from contemporary videogames discussion, examines Wario Land 4 in its totality—including mechanics, psychology, education, level design, and game feel—calling on evidence-based analysis to understand the player's subjective reactions to videogames.
Says author Daniel Johnson:
"A Critical Analysis of Wario Land 4 is unusual in its approach as we begin to understand videogames through evidence-based analysis rather than socio-cultural critique. I'm hoping this book will push against the accepted norms of 'games criticism' and open up new avenues for analytical discussion."
Game Design Companion: A Critical Analysis of Wario Land 4 is essential reading for fans of Nintendo, side-scrolling platformers and retro videogames, curious players looking to better understand the games they play, and provides games designers a new approach for discussing their craft.
Game Design Companion: A Critical Analysis of Wario Land 4 will be available to purchase in digital formats through Stolen Projects from Wednesday 18 December. Retailing at $7.99, Game Design Companion: A Critical Analysis of Wario Land 4 will launch at a special introductory price of $4.99, lasting until January 31. Readers receive copies of Game Design Companion: A Critical Analysis of Wario Land 4 in both .pdf and .epub formats compatible with most computers, mobile phones and tablet devices. Kindle editions of Game Design Companion: A Critical Analysis of Wario Land 4 are planned for future release.
Early release editions of Game Design Companion: A Critical Analysis of Wario Land 4 are available to media on request to stolenprojects@gmail.com.
Daniel Johnson is available for comment and interview via email at danielprimed@gmail.com.
For more information and resources related to Game Design Companion: A Critical Analysis of Wario Land 4 please visit the web portal at danielprimed.com/warioland4
About Daniel Johnson
Daniel Johnson is a former GameSetWatch columnist now writing long-form analysis of games that have fallen out of the current release cycle.
Web: danielprimed.com
Email: danielprimed@gmail.com
Twitter: @danielprimed
About Stolen Projects
Stolen Projects is a design studio and publishing house producing and distributing books valuing videogames, art, design, illustration and other topics of an interesting nature. Stolen Projects is owned and operated by Daniel Purvis, professional illustrator and designer with clients including Kill Screen Magazine, Polygon.com, Hyper Magazine and Clemenger BBDO Adelaide.
Web: stolenprojects.com
Facebook: facebook.com/stolenprojects
Twitter: @Stolen_Projects
Stay tuned as early next year as Game Design Companion: A Critical Analysis of Wario Land 4 will be followed up by Daniel Johnson's new boogazine series, Adventures in Game Analysis with subjects ranging from Metroid to WipEout. More information to come in 2014.
For any media inquiries, please contact
Daniel Purvis at stolenprojects@gmail.com or via phone on +61 433 788 717