February 9th, 2013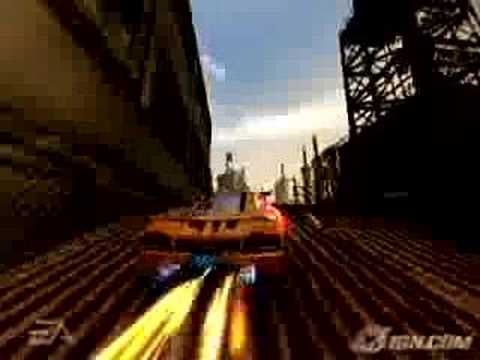 Back in 2007, I sunk 42 hours into Burnout Revenge. I've always had a fondness for arcade-style racing games like Daytona USA and Crazy Taxi, and Burnout Revenge was the first arcade racer I'd played with a meaty campaign that I could really sink my teeth into. When I returned home for Christmas in 2011, I took Burnout Revenge for a spin. Here are a few of the things I noticed:
The core engagement of Burnout Revenge comes from driving at fast speeds (reflex skills) while simultaneously managing various side tasks to build your boost meter (knowledge skills).
There's a lot of variety in the things you can do to earn boost: drifts, jumps, takedowns, near-misses, taking shortcuts, and comboing up loose vehicles are some examples.
These sub-goals scale up too. Chain together multiple takedowns, for example, and your boost meter will max out.
The track designs and distance between most racers ensure that the player can't exploit the same boost-gaining techniques: they must vary up their skill set.
There are loads of ways to organically scale the difficulty, including speed, alternate routes, moving with or against traffic, as well as the previously-mentioned sub-goals.
In order to maintain the game's speed and offer enough breathing room for the player to multi-task, the designers took a few liberties with the game's realism:
The player isn't heavily penalised for hitting walls. They can actually skirt barriers to minimise the loss of speed.
The player's car can hit small vehicles from behind to send them flying (which earns them boost). Big vehicles, though, lead to rear-end collisions, while the player can only knock other racers.
It's difficulty to crash a landing.
The wind marks as the player's driving create the sensation of speed without speeding up the gameplay.
When the player does a takedown, the camera spins around to show the full extent of the collision. Although the stylish shot interrupts gameplay, the screen turns yellow and the player's car switches to autopilot so that the transition isn't jarring at all. The auto-pilot itself doubles as a reward.
Blowing up your car after you crash feeds back into the strategy and extends the interplay between competitors
Feels good to be back in the writing loop. Anyone have any experience with this game or the series as a whole?