February 16th, 2011
[The article below is a draft piece from my book, Rethinking Games Criticism: An Analysis of Wario Land 4. I strongly urge you read the book instead of this article. What you see below was edited and re-written several times for the final copy, so the analysis in the book is much deeper and the writing flows a bit more. Thank you.]
I have to backpedal a bit with my analysis of Wario Land 4 and make a few things clear. The first of which is that my approach to this project is to write up all my analysis and stick it all up on the blog once I've written it. The order isn't terribly important, so long as I follow a predetermined guideline of:
essential mechanics and game elements analysis
in depth level analysis
other essays and tying up loose ends
I'm very certain now that I can and would like to turn the results of this project and the next one (which is still a secret) into books. The idea is then to write up all my analysis now as tightly as I can and then once the major material is finished, I can go back, bind it all together, make alterations to any ideas that have changed over the course of the writing and include a first chapter, fully featured guide for reading the book. The latter being an introduction of Wario Land 4, my language and the concepts for analysis and an overview of the running parts of the game and key areas of design. This guide will be pivotal which is why I want to leave it until last, since by the time I've finished writing the main content, I will be able to introduce the game clearly as opposed to introducing what I will say before I've understood it by actually saying it first.
What this means is that reading what I post am and will continue to post on the blog will be quite demanding if you're not haven't played Wario Land 4 or aren't familiar with the in-game or analysis terminology. I'm sorry about that, for effectiveness I've got to go full steam ahead into the nitty gritty. Don't worry, it will all make sense in the long run.
With all this said though, what I really should have started with, instead of the primary mechanics, is the nature of 2D space and core game elements. I'm going to do the latter right now, the former will come in due time. Also, I've created a contents page for this project. It should help us both organise the ideas a little more concretely.
Game Elements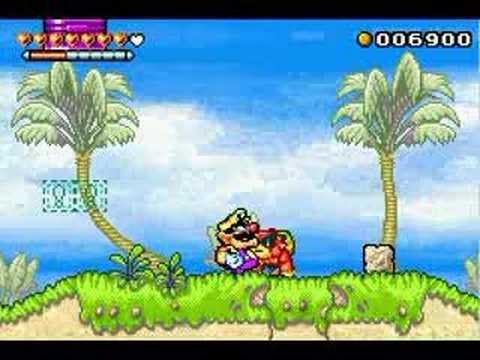 Here is a video of Wario Land 4, in it we can identify the core elements of the games. Before I tell you though, I want you to consider what they are. When you're ready, check your predictions. My list is:
Wario/the player
Level Elements
Enemies
Coins and Treasures
Hearts
Secrets
Did you guess correctly? Maybe you did but used different wording. Let's cross-check our ideas:
Wario/the player
Simple enough, this is the avatar. They have a series of abilities called mechanics, a set of different forms (Flat Wario, Puffy Wario) that modify their mechanics called transformations and there are various gameplay dynamics such as gravity that affect the player's mechanics.
Level Elements
These are the things that Wario/the player can interact with using their mechanics. A platform, for instance, can be jumped upon. A slope can be slid down, block can be broken or an object can be thrown. Level elements also include essential pieces of a level, such as the vortex that acts as an entry/exit and the switch which opens the vortex for the player to leave the level. The keyzer which opens the door to the next available level and the 4 jewel pieces which together help open the door to the passage boss are also level elements.
Enemies
Enemies pose a threat to the player. In Wario Land 4, threats can be a loss of hearts when Wario is attacked, losing all of them will force the player to replay the game from the beginning or contrary motion where enemies try to slow or prevent Wario from reaching the other side of the screen.
Coins and Treasures
Coins and treasures are optional elements that have several purposes in a level. They are rewards which lure the player into engaging more deeply with Wario's mechanics. In this way, coins and treasures also allow the player to naturally scale the difficulty. Further, coins and treasure direct the players attention to a chosen area in the same way in the same way a trail of jelly beans or bread crumbs are used in fairy tales.
Hearts
Hearts are pertinent to the health bar. Every time Wario is attacked by an enemy, he loses health. So health acts as an abstract form of tension. Beaten enemies drop small hearts that restore the heart gauge and if enough are gathered Wario's health. Hearts, like coins and treasures, are an optional way for the player to engage more deeply with the game.
Secrets
Purple pipes hidden in each level take Wario to a special puzzle room with rare treasure.
What you'll notice is that each of these elements of the game centre around the player's mechanics and thereby interaction. Levels are solely a playground for realising the depth of interaction through mechanics.
The first part of this project will individually explore these elements in more detail, as well as their relationships (counterpoint and interplay) and other essays.