February 21st, 2011
[The article below is a draft piece from my book, Rethinking Games Criticism: An Analysis of Wario Land 4. I strongly urge you read the book instead of this article. What you see below was edited and re-written several times for the final copy, so the analysis in the book is much deeper and the writing flows a bit more. Thank you.]
Regular elements are the core building blocks of a level. When you combine these pieces together, along with enemies you create a level idea. That is, a system of devices that can be interacted with which, individually and when combined, tell a narrative through their functions. For example, the spurts of lava and slippery ice flooring of Firey Cavern communicate the ideas of place. On the other hand essential elements, which are present in every level, define the continual theme throughout the game or the game's overall ethos.
Platforms – Through-floors, Non-through Floors, Slippery Platforms
Purpose: To engage the player with the jump mechanic
Platforms are pretty self-evident in a platforming game; they make the player use the jump mechanic. There are a handful of different types of properties to platforms in Wario Land 4. Through-floors (soft) and non-through floors (hard) are as they seem, the former can be jumped through, the latter cannot. Distinguishing either platform is a pretty simple case of form fits function. Below I have taken captures of a few platforms, try to guess for yourself whether they are hard or soft. Answers are at the bottom of the article.
Then there are slippery platforms which make moving across them (and floors too, which can also be slippery) more interesting and engaging than a regular floor. The slipperiness gives the player something extra to contend with. It's easy to jump platforms, it's harder to jump platforms and manage the added glide for each landing.
Blocks – Normal, Small, Thick, Fire and Snow
Purpose: Give the player something to attack, destroy and terraform
Blocks are about as important as platforms, in fact they probably have more design weight as they can double as platforms too. Blocks follow a similar psychological principle to dropped coins or crystals: "there there, so why not go ahead and break them" (or in the case of coins, pick them up). Breaking a block is such a trivial interaction, but the fact that as players we can remove it and shape the game world is actually empowering. Think about how many times you've smashed up a few blocks. I bet you weren't doing it for the chance of getting some piddly coins, were you? (Although that's a factor too). It just felt good. Blocks allow the player to express themselves and that's why we love them.
The staircase of blocks here are just normal blocks, but so are the TV set-looking blocks too. This is an example of where form fits function is considerably blurry. This level (Toxic Landfill) has many secrets centred around this distinction.
Blocks come in a few flavours: normal, small, thick, fire and snow man. Normal blocks can be broken with any attack and can be broken from a jump underneath too. They are 2 units high. A few times over the past week I have referred to normal blocks as weak or thin blocks—this has been an error on my part. Normal blocks have a few different visual variants, some, like the ones in Toxic Landfill look visually weaker, which is what tripped me up. If the player does a Super Smash Attack (ie. a heightened smash attack, another mistake on my part; vertical) or a Dash Attack (horizontal) then they won't recoil after smashing a normal block, otherwise they will with a regular attack.
Thick blocks require a Super Smash Attack (vertical) or a Dash Attack (horizontal) to break and Wario will recoil every time he breaks one. Small blocks are simply blocks that are half Wario's height at one unit tall. These blocks often conceal small passages for Wario to crouch through.
Fire and snowman blocks both require transformation states to be broken, being the Flaming Wario and Snowman Wario forms.
One-Unit High Passages
Purpose: Allow the player to use the crouching walk and crouching jump mechanics
One-unit high passages are tight passages where the player must operate in the crouched state. It's just another way for the player to deal with space but since the confines of the passages automatically force Wario into the crouch there's not a great deal to really say about it.
Slopes
Purpose: Initiate the rolling mechanic, provide speed bumps
Slopes initiate the roll mechanic for Wario in a neutral and snowman state and they come in various heights. Since slopes start the roll mechanic which puts Wario into a one-unit-high ball form, single unit passages are often located nearby to slopes. In the snowman state, snow blocks will be located nearby instead of regular blocks. If snow blocks are used, they will be in the direct path of land following a slope as Snowman Wario cannot jump in rolling form. Slopes may also be used in the design as small hills whose slanted surface acts as a speed bump to Wario's movement.
Slope Switches and Slope Blocks
Purpose: Break the initiation of rolling mechanic into 2 steps
Slope blocks are blocks placed on each step of a staircase. Activating a slope switch will turn the slope block from a square to a triangle, thereby turning a staircase into a slope. Maybe a clearer way to picture these devices is as those trap staircases that turn into slippery slides from cartoons. These two devices simply add an activation step to slopes, turing the slide into a 2-part process.
Pipes
Purpose: Transport Wario from one room to another
Pipes are just like doors except they aren't the standard form of connecting rooms which is why I don't consider them to be essential elements. Pipes have an added layer of interaction in that some pipes need to be jumped into.
Water Currents and Conveyor Belts
Purpose: Enforce contrary motion in either land or water spaces
Traversing water is very different from land. On land, the player's vertical suspension in the air is only temporary (jump) due to gravity, meaning that they are bound to the ground area. Therefore to create contrary motion (motion that moves against the player and makes movement more interesting) to the player, that contrary motion ought to be set on the ground, where the player spends most of their time. This is the basic design premise for conveyor belts in platforming games.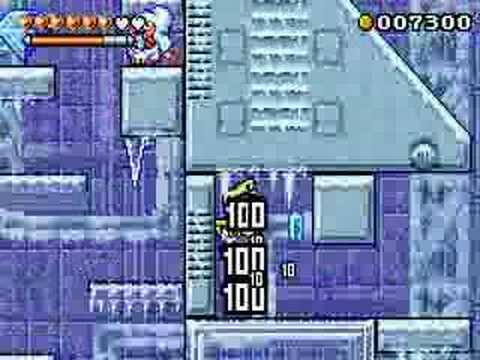 In water, however, the player can use the d-pad and buttons to keep themselves suspended in the same vertical space. This means that the concentrated area of play underwater is much wider than on land. Since the area of major play is wider, so ought to be the devices for contrary motion. What I mean by this is water currents.
The key difference between conveyor belts and water current is their effectiveness. Conveyor belts only give weak resistance, whereas water currents have much higher resistance. It make sense too, if conveyor belts were any stronger, they couldn't be used as platforms, as the player could never hold themselves on one. It's almost inevitable that you will be pulled along by water currents. In this way, water currents are either used sparingly as a nuisance for keeping the player on a set, current-free path (Cresent Moon Village) or to quicken punishment for making a mistake by forcing the player down a path (Golden Passage).
Spikes and Icicles
Purpose: Define danger areas of the environment, facilitate risk/reward
Spikes and icicles are like conveyor belts and water currents in that they're a directive device designed to manipulate where the player should and should not be. Both sets of level elements are designed to impede the player in different ways, one by creating contrary motion and thereby slowing the player down, the other by removing hearts from Wario's health. The idea behind the 2 sets is simple: risk and reward. By creating a risk of impediment, the devices coerce the player to play in a way that the designers want, that is (or maybe, should be), to challenge the player's skill.
Between the two, icicles are single hazards that fall when Wario is in near proximity, spikes are clumps of icicles which cannot fall. The former is designed to make the player more observant and wary of the environment, the latter to provide incentive for clearing platforms.
Addition: Floating spikey balls also fall under this category.
! blocks
Purpose: Chunk out sections of play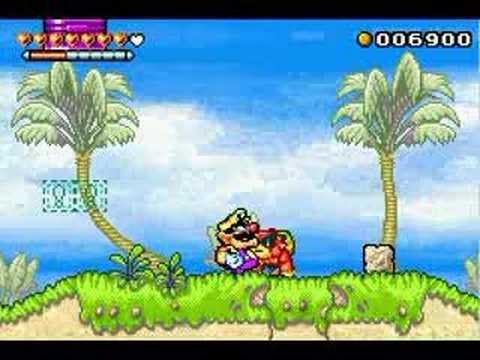 ! blocks are switches which activate outlined blocks of the same colour. In a single stage, there may be a couple of sets of these blocks which come in different colours. The outlined blocks also act as curiosity markers. As the switch is often not in the same vicinity as the blocks, the 2 lead the player to each piece. That is, say in Palmtree Paradise, the player will first walk past outlined blocks, piquing the player's interest, then they'll later hit the respective switch for these blocks, in order to find out what the switch does, the player must go back to where the outlined blocks were. This sort of back and forth interplay is a great way to chunk out a level into switch-governed sections. (It's a staple design trick used in Metroid Prime Hunters… a game that I'll have to write about some time). It's difficult to a see an arrangement of block outlines and gems and not wonder what on earth it all means.
Projectiles – Rocks, Dr. Arewo Stein, Glass Balls
Purpose: Projectiles
Rocks, Dr. Arewo Stein and glass balls are 3 types of non-enemy, one-unit-high projectiles in the Wario Land 4, each with their own properties. Rocks are invulnerable to Wario's attacks and normally used for hitting out-of-reach ! Boxes or clearing a path of horizontal one-unit blocks inside a wall, thereby clearing a path for entry. You can also use rocks to stomp jump off of. Rocks can be destroyed by water or when touched by one of the transformations. Dr Arewo Stein is much the same, except he can survive both and has a funny "ouch" sound effect. The glass balls will break whenever they touch a surface. The player must therefore be ultra careful not to jump too high to touch a ceiling, bump into something to have the ball fall from Wario's hand or accidentally touch a wall. Once the glass ball hits an object like a switch, it will activate the switch and break. There are green birds which spit out a limitless supply of glass balls, so the focus is always kept on the player's handling and not an irreversible fault.
Ladders
Purpose: Facilitate floor-based design and the climbing mechanic
Also fairly simple, ladders are the tool to reach higher levels and facilitate the climbing mechanic. Wario can slide down ladders too, adding a second layer of interaction.
Light sources – Lamps, Lights and Street Lights
Purpose: Make navigating space as Vampire Bat Wario and Zombie Wario more tricky
Navigating water is effectively to navigating space when in Vampire Bat Wario form without the upwards pull (float). In which case, if swimming has hazards such as water enemies and currents, then so should flying—and it does, light sources. Light sources revert Wario back into his neutral state. So, as Vampire Bat Wario attempting to reach a goal, light sources are a clear obstacle. The same is true of Zombie Wario, except that the onus is mainly placed on through-floors and avoiding jumping as opposed to light.
Concealed Areas
Purpose: To make the player more observant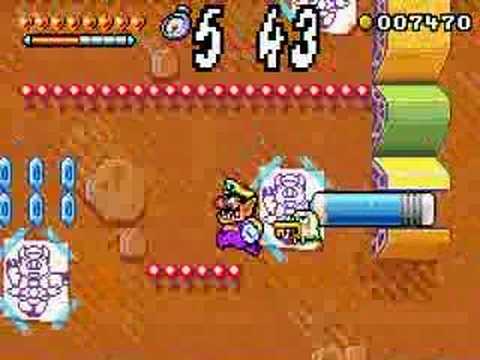 First pioneered in Super Mario World 2: Yoshi's Island, concealed areas are cut-off rooms to a main area with an entranceway, however, unlike other cut-off areas, the room looks like a wall. It's only when the player sees through the facade and enters the doorway that wall becomes transparent and the player can see through. Concealed areas aren't so common in Wario Land 4. They are design to make the player more observant. There's no intrinsic risk/reward in concealed areas, however, when essential level elements are added, like a keyzer or a jewel piece, than it pays to be observant.
Breakable Walls and Platforms
Purpose: Conceal secrets hidden in walls
In Wario Land 4, any wall or platform could be knocked down, very much in the same way that any part of a 2D Metroid game could be cleared away with a morph ball bomb. That's quite amazing when you consider it, but if this is the case, why don't we spend so much of Wario Land 4 concerned about breaking every wall surface in the pursuit of secrets? The answer is simple. The game world uses visual clues to create a suspicion, then we just act on it. Never does Wario Land 4 have a destructible chunk of terrain without a visual marker. If it did, then the game would be coaxing us to leave no stone unturned, but instead, by only using visual markers to tip us players off, Wario Land 4 teaches us to follow visual patterns and look for discrepancies.
Water
Purpose: Change the way the player navigates space
I have discussed water before in the gameplay dynamics post. I think that I covered most of it there.
Platform answers: 5,6,7,9,12 are all through-platforms