December 18th, 2007
This post is a part of the Sexiest People in Games feature series. Basically this series highlights the hottest guys and gals in video games and provides some detail into the character's background and the game they have featured in. This may contain some sexual references. See more here.
It was always going to be a struggle following up the previous entry in the series; Morrigan but I think that I've done it. Heihachi Mishima is one of the Grandparents of video gaming but (much like Sean Connery) this doesn't sway the charm one bit. Some may not understand why Heihachi is included in this feature but allow me to make things clear. Heihachi Mishima is sexy as:
he has tanked up muscles
a wicked hair do and a bad ass moustache
looks totally cool and respectable
he is the main character of the series that made 3D fighters cool
has appeared in every Tekken game
and is just so much cooler than Akira Yuki (Virtua Fighter)
Also keep in mind that I don't want to be biased with this series, hence I shall try an fairly distribute the guys and gals. So it was always going to be hard for me to talk about the guys. >< Now that that's all cleared up, let's continue.
Background
Heihachi Mishima started out as the villain of the Tekken series and has dropped this role as the series progressed. He was the owner of the Mishima Zaibatsu which is a family run business by the Mishima family. Mishima Zaibatsu is a crucial parts of the Tekken series as it sets the story for the Mishima family whom also feature as playable characters in the series. Unfortunately the problems within this family (like how they constantly try to kill each other) has resulted in several different different family members owning the business.
Heihachi is a staple character in the series as he has hosted most of the Iron Fist Tournaments, paves the way for other major characters and has been in every single game as well as featuring in the PS2 version of Soul Calibur 2.
Featured Games
As previously mentioned Heihachi has been in every single Tekken game. That is Tekken 1-5 and Tag Team Tournament. The Tekken series has been one of the key franchises to bring 2D fighting games into the 3D generation, along with Virtua Fighter and Soul Blade. It is also one of Namco's strongest gaming brands.
Tekken is famous for its ground breaking 3D fighting system which helped launched the fighting genre into 3D on the Playstation. Since Tekken 3 some fans have been turned off from the series due the minimal upgrades that each game has recieved since Tekken 2 (Tekken Bowl is does not help). As a result in recent years the franchise has been over shadowed by Namco's Soul Calibur with its fresh approach to 3D fighting.
Extras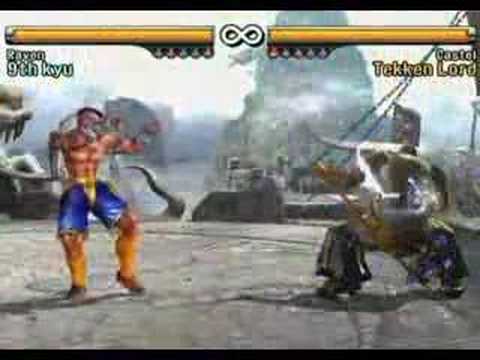 Video of Heihachi's combos in Tekken 5
Heihachi has cameoed in many of Namco's other games such as Soul Calibur 2, Death by Degrees, Anna Kournikova's Smash Court Tennis and Tales of the Abyss. As well as being referenced to in the GTO manga, a personal favourite that one check it out.